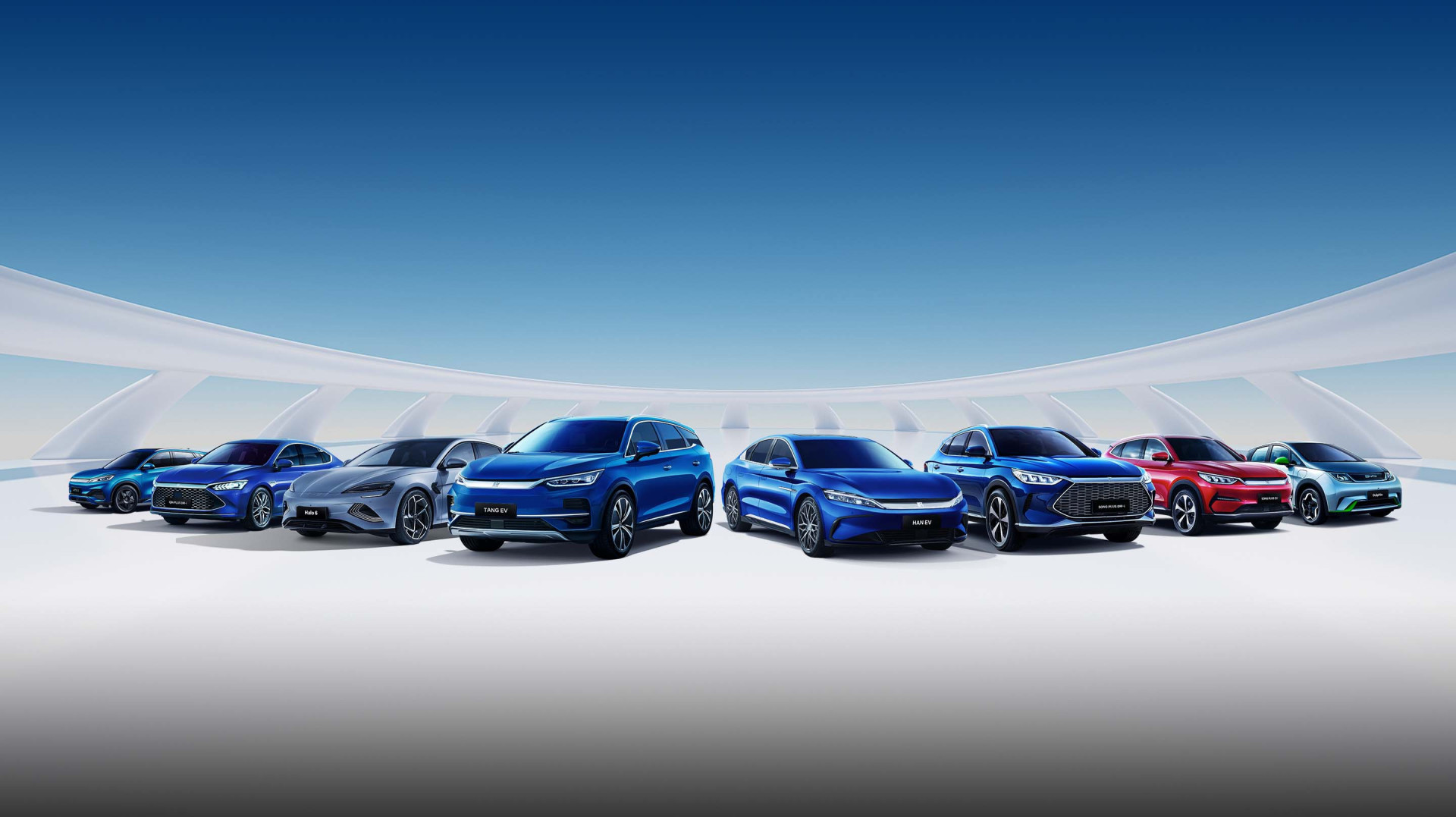 THE BYD ATTO 3 SUV DEBUTS IN IRELAND
24/04/2023
The all-new, fully electric BYD ATTO 3 SUV has arrived in Ireland bringing high levels of standard equipment and pioneering EV technology developed for safety and efficiency to Irish consumers
With safety a priority, the BYD ATTO 3 comes with a Five-Star Rating secured in Euro NCAP Safety Tests
The BYD ATTO 3 is the first C-SUV to utilise the ground-breaking e-Platform 3.0 bringing the latest in EV innovation to Irish customers
It is equipped with the highly efficient 60.48 kWh BYD Blade Battery with a 420KM range (WLTP combined) and DC Charging (SOC 30-80%) in just 29 minutes
The BYD ATTO 3 is available now through dealerships in Dublin (2) and Cork (1) with additional outlets soon to be announced. Prices start from €37,128 after state subsidies.
Globally renowned Chinese auto maker BYD, the world's leading manufacturer of new energy vehicles and power batteries (whose name stands for 'Build Your Dreams'), has introduced a new brand and new technology to the Irish market with the arrival of their all-new, all-electric BYD ATTO 3 C-segment SUV.
Available initially through dealerships in Dublin and Cork – with additional dealerships to be announced shortly – the BYD ATTO 3 can be viewed in Dublin at BYD North Dublin on Navan Road and at BYD South Dublin in Deansgrange. In Cork, models can be viewed at BYD Cork at Eastgate Business Park, Little Island.
Expressive Design
Designed by renowned German auto designer, Wolfgang Egger, the eye-catchingly elegant BYD ATTO 3 is styled with European customers in mind. With its distinctive sloping silhouette, it is expressive from every angle. Equipped with exceptionally high levels of standard equipment, including a Panoramic Sunroof, BYD's attention to detail can be seen throughout, extending to its unique interior to give the BYD ATTO 3 an added dimension of youthful flair and personality.
Model Variants
The BYD ATTO 3 range consists of three model variants: Models with 'Comfort' and 'Design' trim levels followed by an 'Active' model variant – all part of the Phase One scheduling of BYD's launch into the Irish market.
BYD ATTO 3 Pricing
Taking account of its high level of standard specification, its many innovative features, and its extensive range of high-tech elements, the BYD ATTO 3 is introduced at what its distributor says is 'an appealingly-competitive price level' beginning from €37,128.
| | |
| --- | --- |
| VERSION | PRICE |
| ACTIVE | €37,128 |
| COMFORT | €37,596 |
| DESIGN | €38,964 |
Globally Renowned
With more than 28 years' experience in battery research and development, BYD is globally renowned for its pioneering technology and world-leading innovations in eMobility solutions. The only New Energy Vehicle (NEV) producer to have developed its own powertrain systems, power batteries, automotive semiconductors, drive-motors and motor controller systems, BYD is bringing 'pinnacle' technology and revolutionary battery expertise to the vehicles it produces, BYD ATTO 3 included.
A spacious C-Segment SUV, the new BYD ATTO 3 combines modern aesthetics with exceptional intelligence and efficiency that BYD states 'is derived from pioneering electric vehicle technology and smart connectivity'.
Ground-breaking BYD EV Technology
Developed for safety, efficiency and performance, the BYD ATTO 3 is the first SUV to be built on BYD's ultra-intelligent, next-generation e-Platform 3.0 for the ultimate in safety, system efficiency, integrated vehicle intelligence, and performance. Creating larger cabin space, BYD's new generation e-Platform 3.0 is at the forefront of EV innovation – reflected in the world's first mass-produced highly integrated 8-in-1 electric powertrain connecting all electric control units and management systems, and in a seamless deep integration of the system that delivers overall system efficiency of 89%. Other core features at the heart of the e-Platform 3.0 are BYD's cobalt-free Blade Battery, and the high-efficiency heat pump.
Increased thermal efficiency
With intelligent thermal management, efficiency is achieved in a wide range of temperatures with an excellent low temperature driving range. Featuring the industry's first direct cooling and heating system for power batteries, BYD's innovative system leverages the residual heat from surroundings to increases thermal efficiency by up to 20% in Winter.
Ground-braking battery technology
In the BYD ATTO 3, BYD utilises ground-breaking battery technology – evolved from over 28 years' expertise in this specialist sphere – to provide new levels of safety, durability and performance, as well as increased battery space utilisation. Their revolutionary, ultra-safe Blade Battery has surpassed the Nail Penetration Test, regarded as the Mount Everest of battery safety tests. The cobalt-free Blade Battery uses Lithium Iron-Phosphate (LFP) as its cathode material which offers a much higher level of safety than conventional lithium-ion batteries. A very durable material, LFP has inherently excellent thermal stability and, significantly, is cobalt-free. Efficiency and longer range are further benefits of the Blade Battery, providing more power density for optimum performance and efficiencies, including faster charging.
Optimum Performance and Handling
Combined, this integrated technology has been developed to deliver optimum performance and a better driving experience. With the 60.48 kWh Blade Battery combined with the permanent magnet synchronous motor, the BYD ATTO 3 can accelerate from 0 - 100km/h in just 7.3 seconds.
Impressive Charging, Range and Efficiency
BYD ATTO 3 has a reassuring (WLTP combined) electric range of 420kms, with energy consumption as low as 6.40kms/kWh (WLTP), and 16.3kWh/100km or less. Charging power is 11 kW AC 3 (Comfort and Design). High performance is also achieved when it comes to recharging. With a 150KW DC charger, the battery can be replenished from (SOC) 30% to 80% in just 29 minutes. Overnight charging from an almost empty battery to full range can be completed in just 6.5 hours. BYD ATTO 3 (all three trims) is also equipped with an auxiliary function whereby external devices can easily be charged by the car battery.
Ultra-Safe with High Levels of Standard Equipment
Thanks to BYD's commitment to safer driving, the BYD ATTO 3 has a comprehensive suite of standard safety and driver assistance equipment. In Euro NCAP Safety Tests, it secured a Five-Star Rating, achieving a score 91% for adult occupant protection and 89% for child occupant protection.
Safety features in all BYD models include: Forward Collision Warning, Automatic Emergency Braking, Rear Collision Warning, Rear Cross Traffic Alert and Rear Cross Traffic Brake, Lane Keep Assistance, Lane Change Assist, and Emergency Lane Keep. Further driver aids include Blind Spot Detection System, Electronic Stability Program, Electronic Brake Distribution, Electric Parking Brake, Antilock Braking System, Automatic Vehicle Hold, Traction Control, Hill Decent Control, Traffic Sign Recognition, Intelligent Speed Limit Information, and Intelligent Speed Limit Control.
Smart Connectivity
Smart connectivity and leading infotainment are other primary elements of the BYD ATTO 3. Equipped with DiLink 4.0, its 4G intelligent connection system brings leading technology experiences, and Over-the- Air (OTA) updates as part of the iCloud service.
GPS Navigation features as standard. A focal feature inside the BYD ATTO 3 is its unique 12.8 inch rotatable touchscreen (15.6 inch on Design versions) with voice recognition delivering an abundance of connected experiences and integrated Apps, including Apple CarPlay
BYD Product Highlights
| | |
| --- | --- |
| Items | BYD ATTO 3 |
| Dimension (L/W/H) | 4,455/1,875/1,615 |
| Drive type | FWD |
| Top speed (km/h) | 159 |
| Motor power (kW) | 150 |
| 0-100 km/h acceleration time (s) | 7,3 |
| Wheel size (inch) | 18 |
| Electric range (kms) | 420 (WLTP combined) |
| Trunk volume (L) | 440/1,338 |
| Seating capacity (occupants) | 5 |
| Battery type | BYD Blade Battery (LFP) |
| Rated capacity (kWh) | 60.48 |
| DC charging time (30-80%, min) | 29 |
Commenting, Michael Shu, General Manager and Managing Director, BYD Europe and International Cooperation Division says: "BYD's passenger car business has developed rapidly – at present, BYD has served a total of 3.5 million car owners. We hope to bring these experiences to markets in Ireland and other European countries. With the advantages of BYD's core technology, cost and production capacity, combined with the localised resources of Motor Distributors and local dealers, we will bring diversified choices to consumers and provide great customer service."
About BYD
BYD is a multinational high-tech company devoted to leveraging technological innovations for a better life. Founded in 1995 as a rechargeable battery maker, BYD now boasts a diverse business scope covering automobiles, rail transit, new energy, and electronics, with over 30 industrial parks in China, the United States, Canada, Japan, Brazil, Hungary, and India.
From energy generation and storage to its applications, BYD is dedicated to providing zero-emission energy solutions that reduce global reliance on fossil fuels. Its new energy vehicle footprint now covers 6 continents, over 70 countries and regions, and more than 400 cities. Listed in both Hong Kong and Shenzhen Stock Exchanges, the company is known to be a Fortune Global 500 enterprise that furnishes innovations in pursuit of a greener world.
About BYD Europe
BYD Europe is headquartered in the Netherlands and is the first overseas branch of BYD Group, with a commitment to delivering safe and efficient sustainable solutions in new energy vehicles through world-leading technological innovations.
About BYD Auto
Founded in 2003, BYD Auto is the automotive subsidiary of BYD, a multinational high-tech company devoted to leveraging technological innovations for a better life. Aiming to accelerate the green transition of the global transportation sector, BYD Auto focuses on developing pure electric and plug-in hybrid vehicles. The company has mastered the core technologies of the entire industrial chain of new energy vehicles, such as batteries, electric motors, electronic controllers, and automotive-grade semiconductors. It has witnessed in recent years significant technological advancements, including the Blade Battery, the DM-i and DM-p hybrid technology, the e-Platform 3.0, and the CTB technology. The company is the world's first carmaker to stop the production of fossil-fuelled vehicles on EV shift and has remained top of new energy passenger vehicle sales in China for 9 years in a row.
About BYD in Ireland
In Ireland, the BYD ATTO 3 SUV and all future BYD models launched on the Irish market will be distributed by Motor Distributors Limited (MDL), a company recognised as one of Ireland's leading and most distinguished motor vehicles distributors. Since the 1940s, MDL has served as distributors in Ireland for many of the world's leading motor brands. Initially, the BYD ATTO 3 will be available through dealerships in Dublin and Cork cities – BYD North Dublin, Navan Road; BYD South Dublin, Deansgrange and BYD Cork Eastgate Business Park, Little Island. Additional sales dealerships to be announced shortly.