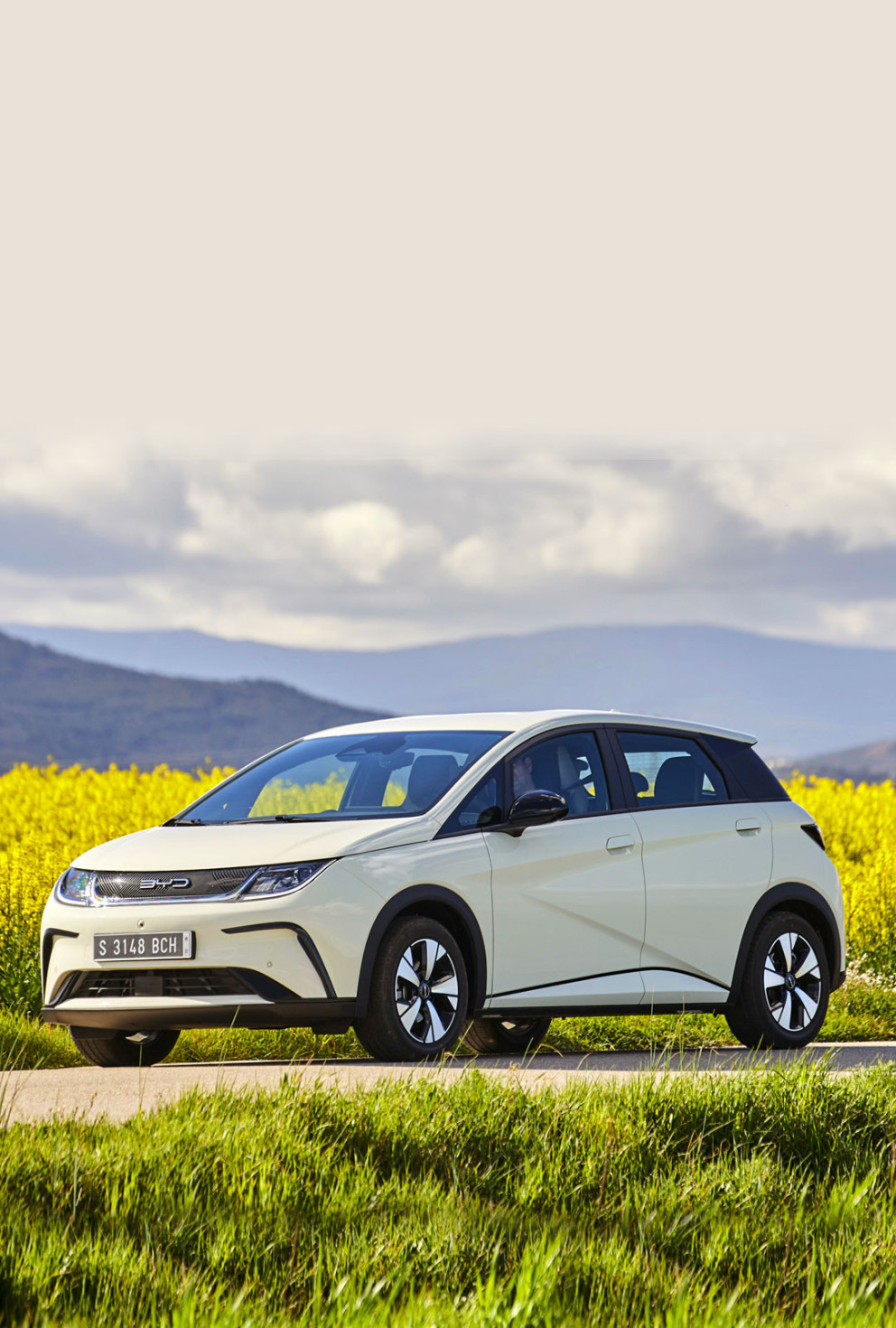 BYD DOLPHIN
The BYD DOLPHIN is an agile and versatile C-segment hatchback – highly practical and efficient with a reassuring range.
427km
range WLTP combined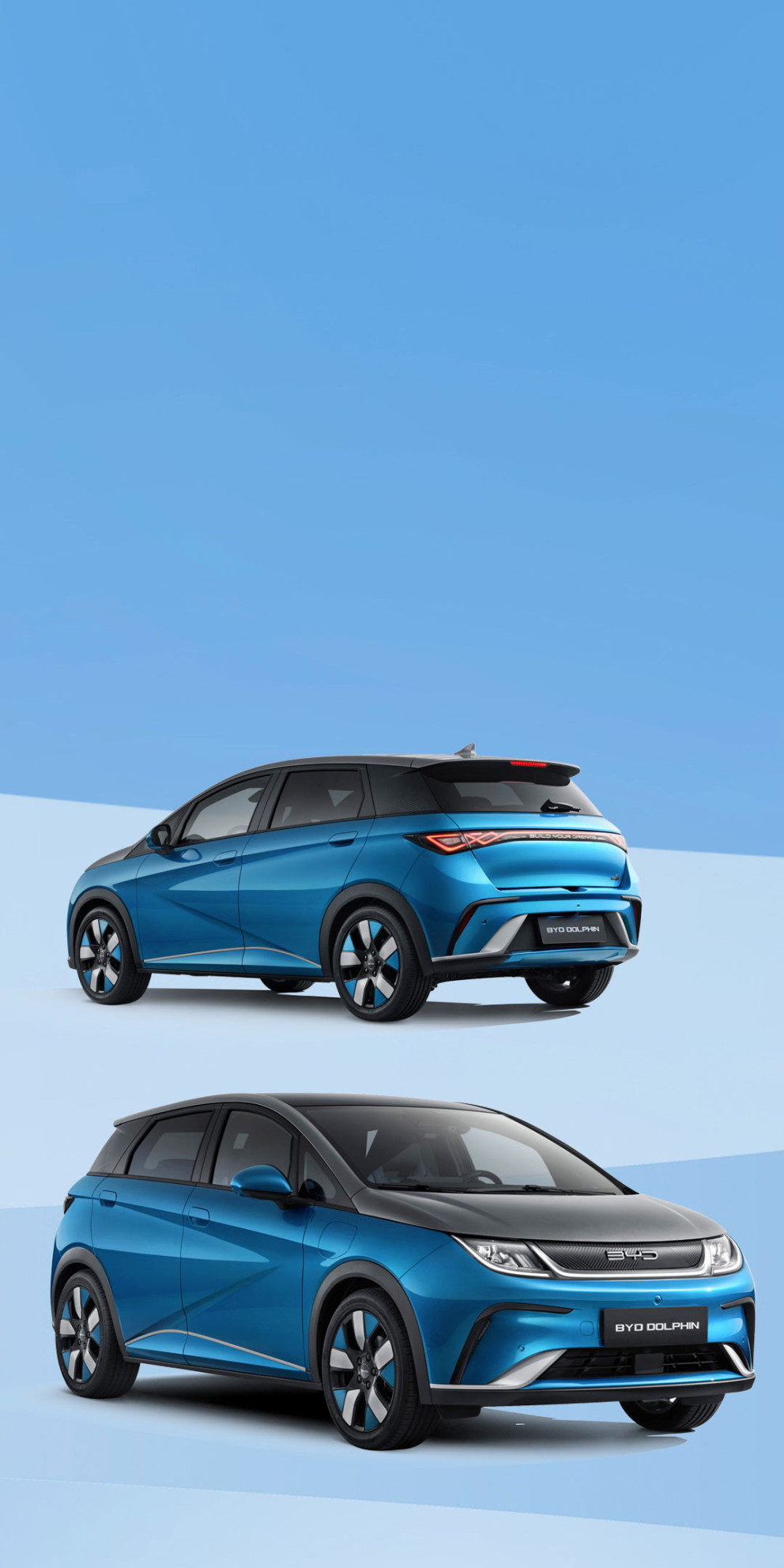 Highly practical and efficient with a reassuring range.
The new BYD DOLPHIN will be our most compact model and we expect it to arrive in Ireland in August 2023. Don't let the word 'compact' fool you, however, because this 5-seater hatchback is much roomier than you'd expect. And, like all BYD cars in the range, it comes with so many great features as standard.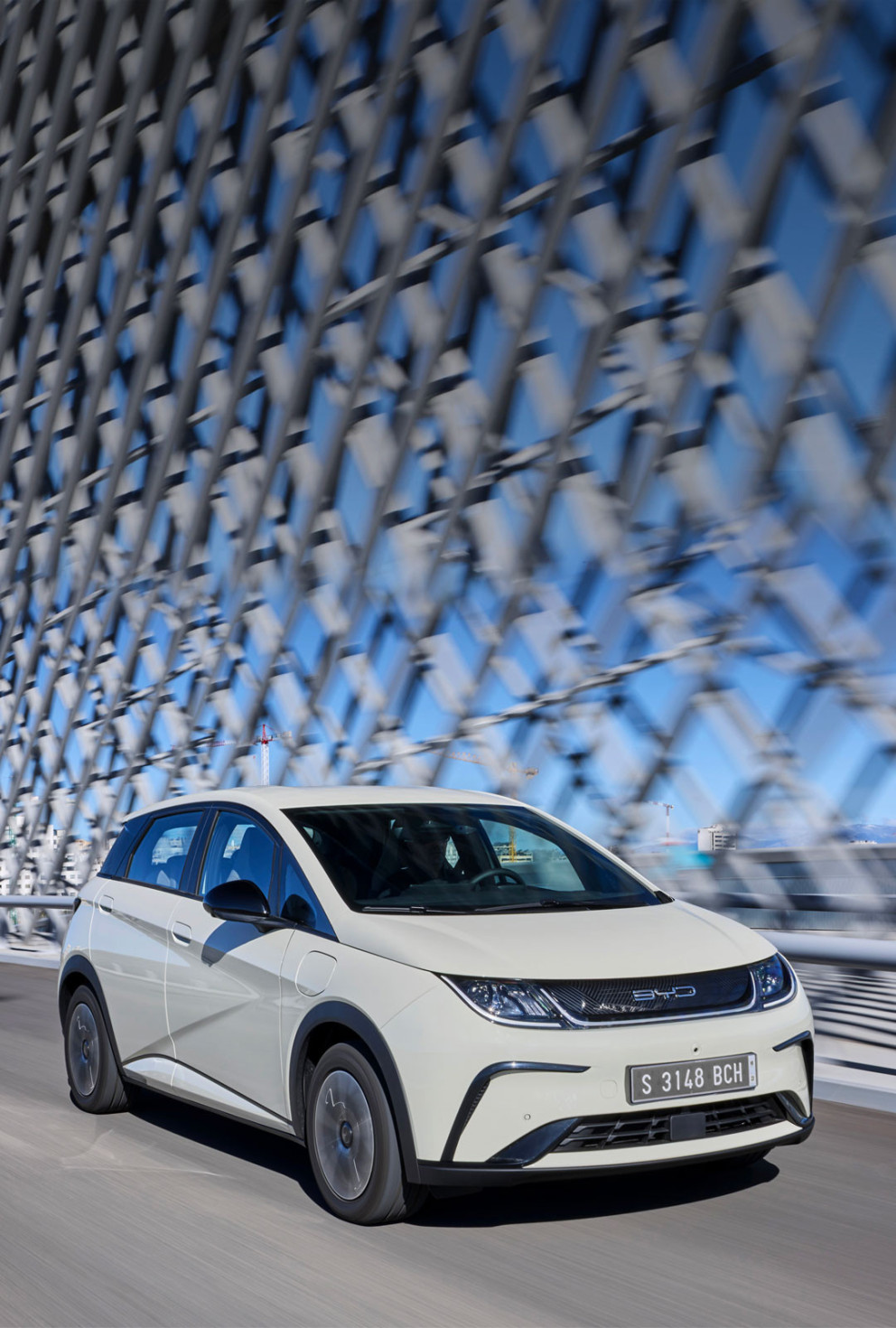 The sophisticated bodywork, coupled with sharp crease lines and flowing contours, projects a really elegant design underpinned by the all-electric powertrain.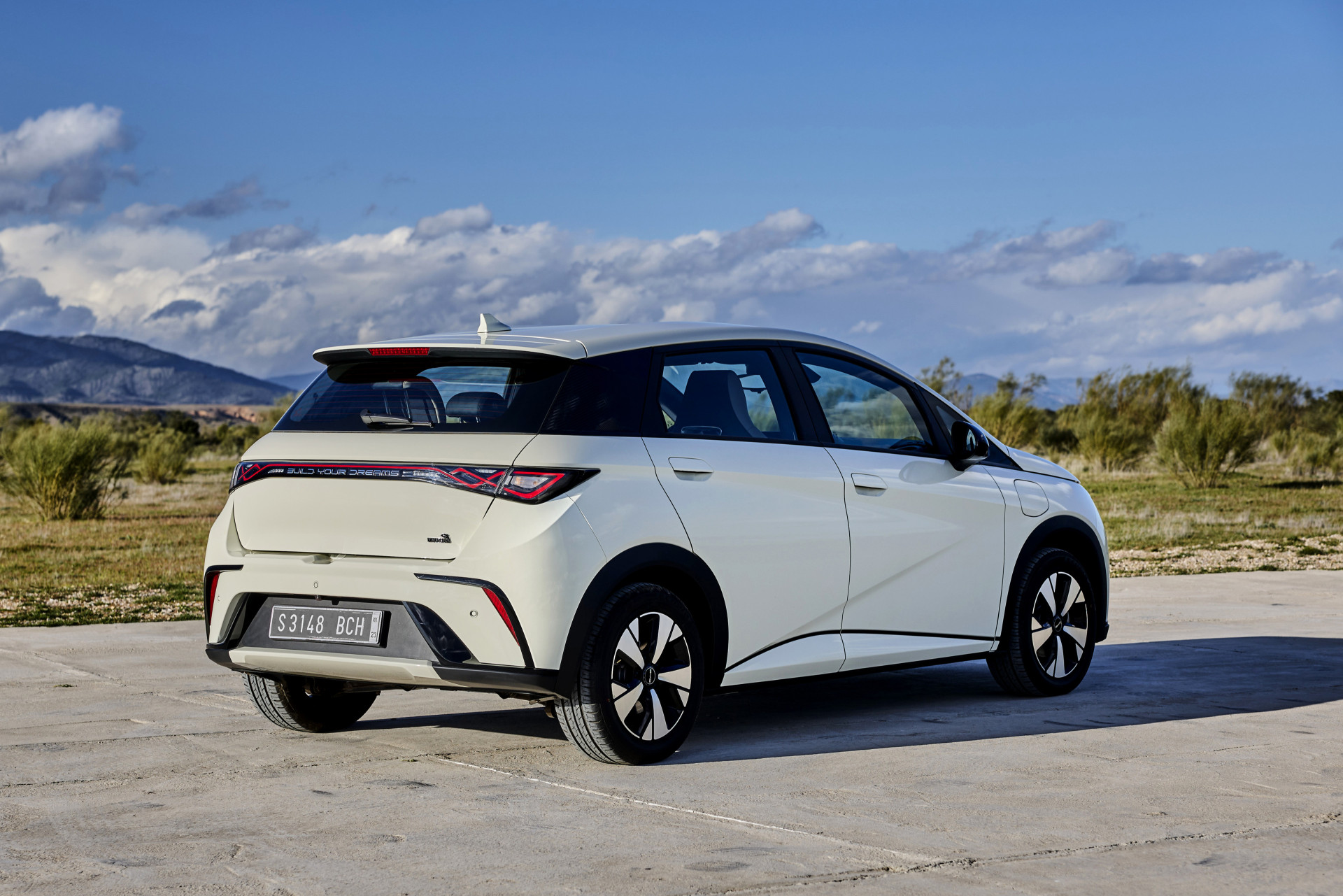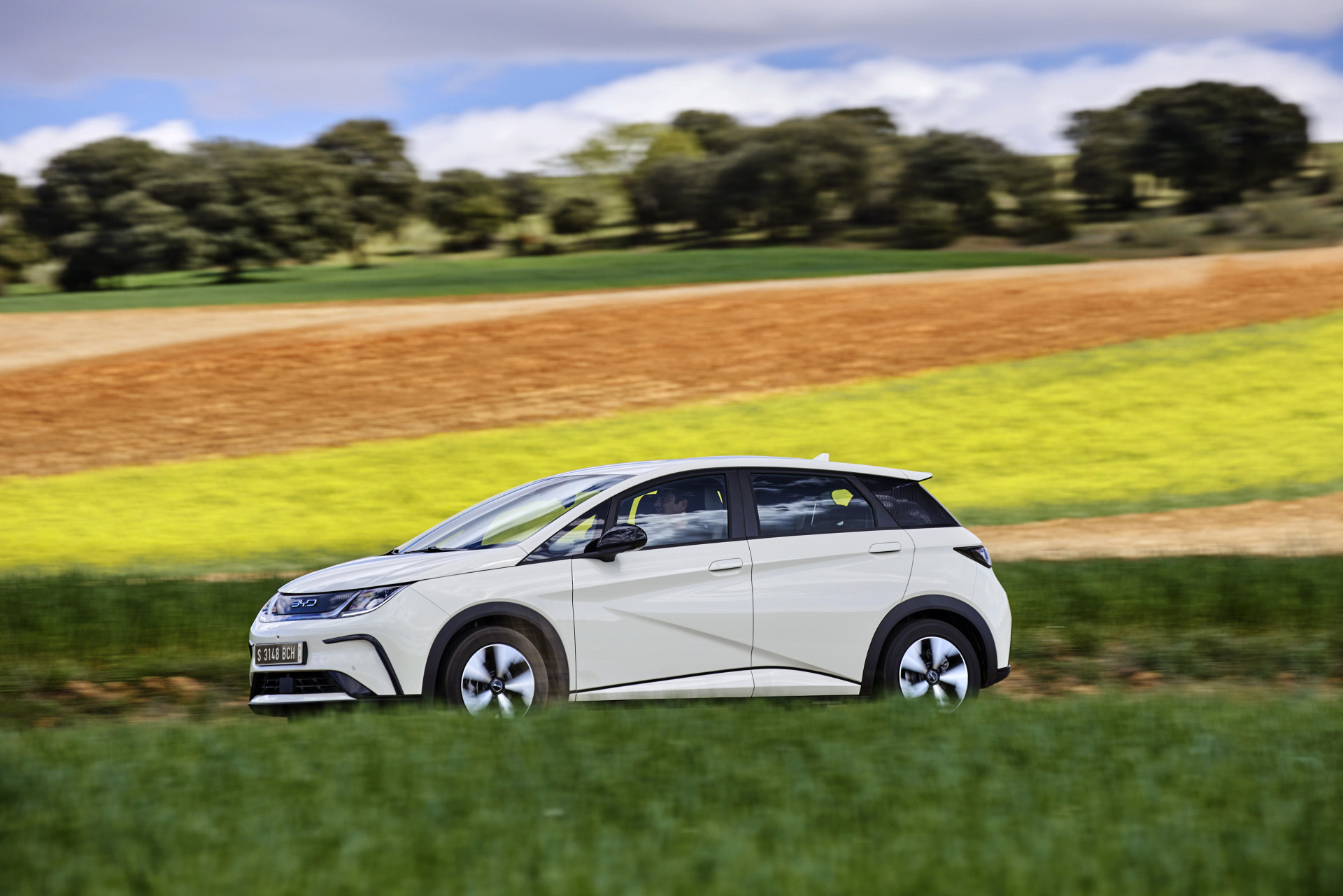 Instantly recognisable
The BYD DOLPHIN is characterised by manoeuvrability, efficiency and accessibility. The design is instantly recognisable with the side profile, which is pretty sleek for a hatchback. It has a rounded shape with some interesting sharp shapes on the doors. The large wheelbase of 2.70 m provides plenty of space for both driver and passengers.
With 16-inch alloys as standard, 17-inch wheels are also available.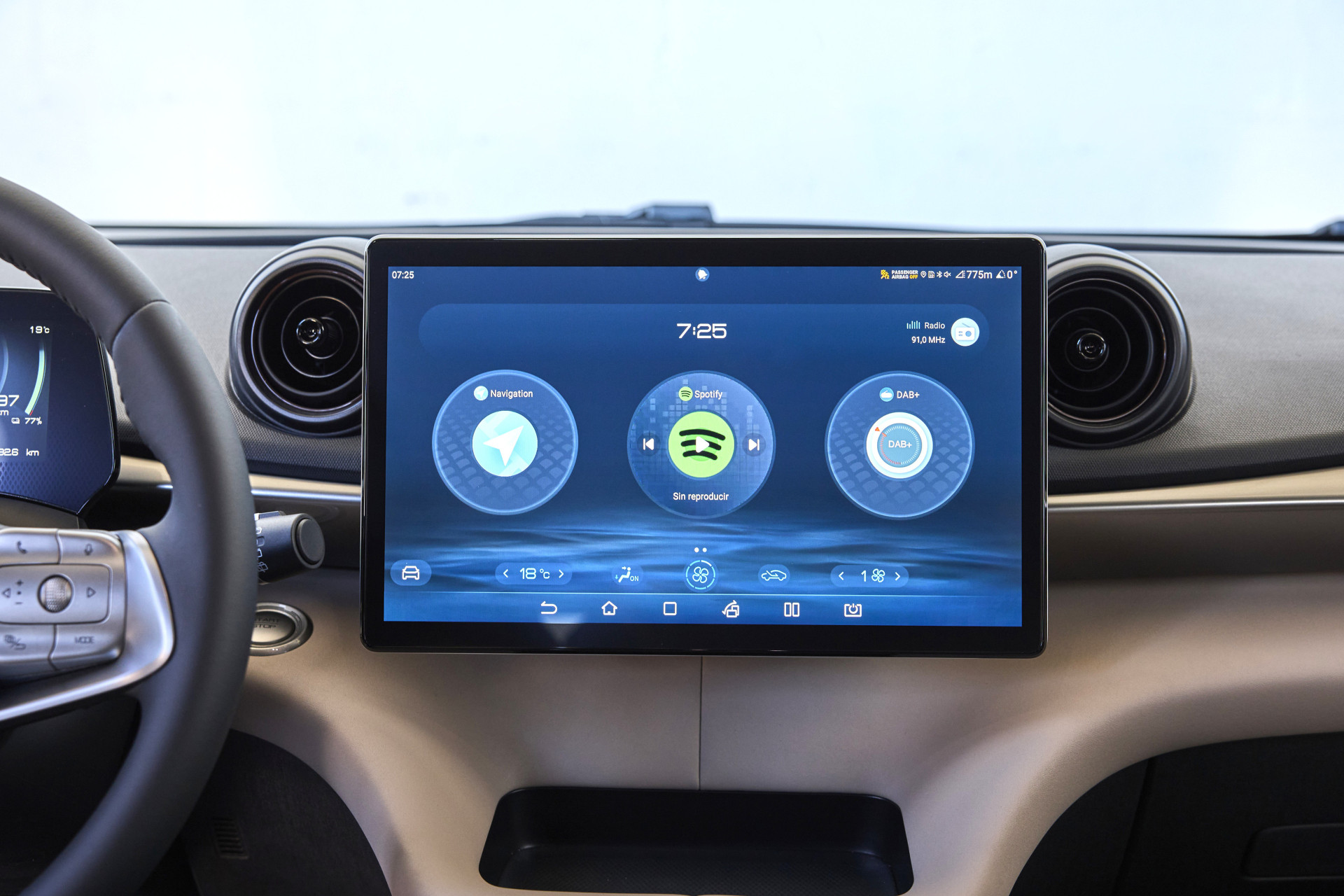 The touchscreen
The large display screen is the centrepiece of a connected universe, integrating intelligent voice, entertainment and connected car functions to enable you're driving without distraction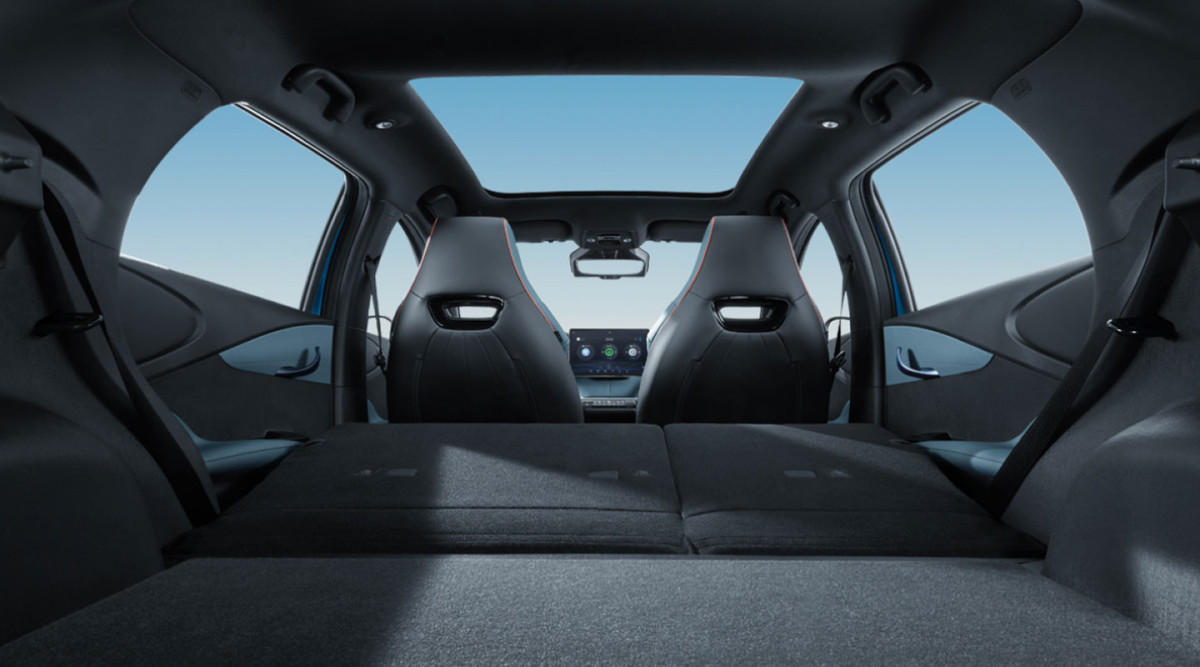 Large boot space
The boot can easily store four standard 20-inch luggage cases. The seats can be split 60:40 and folded flat allowing the 345 litre boot to expand even further to 1,310 litres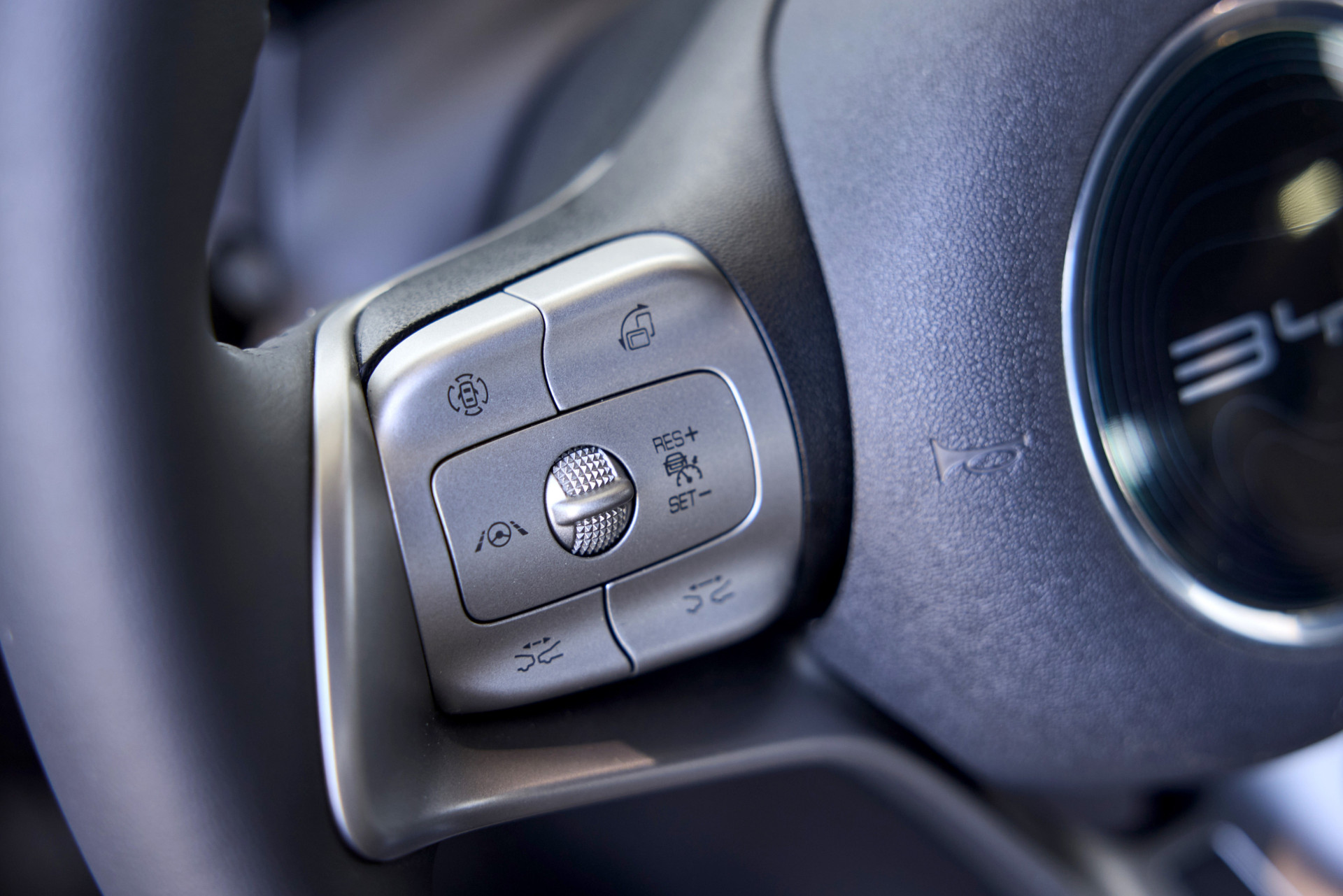 Driver assistance systems
The BYD DOLPHIN comes standard with a plethora of safety and advanced driver assistance features. All versions are equipped with a 360-degree camera, Blind Spot Detection (BSD), Lane Keeping Assistance (LKA) and Intelligent Cruise Control (ICC). The BYD DOLPHIN also features Rear Cross Traffic Alert (RCTA) and Rear Cross Traffic Brake (RTCB) as standard, which means that when reversing, the millimetre-wave radar follows other road users approaching the rear of the vehicle. In the event of a possible collision, a warning sound is heard and the car brakes itself.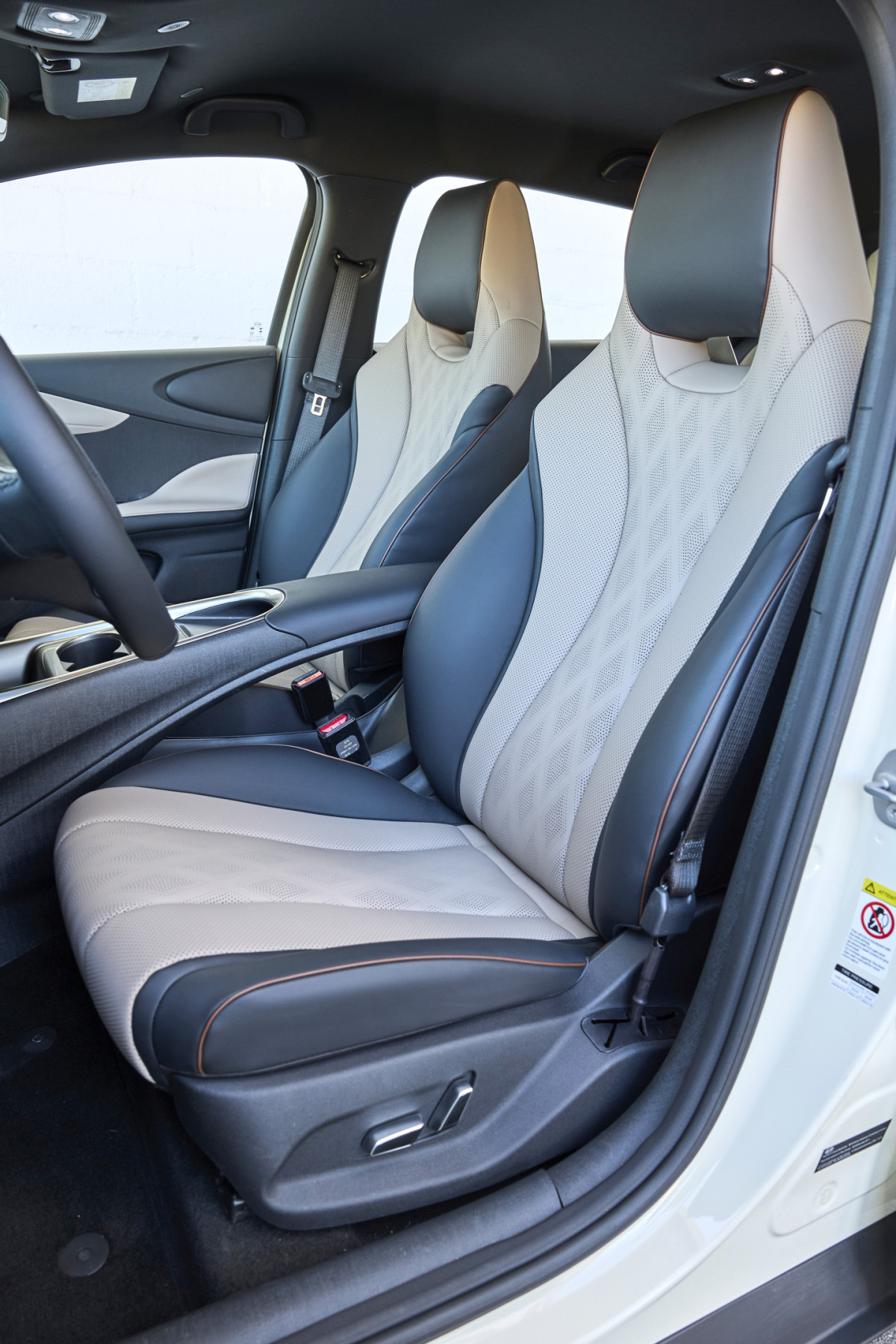 Sustainable vegan leather seats
The integrated sports seats offer long-distance comfort as well as strong lateral support during cornering. These seats are made from sustainable vegan leather, offering an eco-friendly solution without compromising on style. With multiple-way adjustment, you can completely customise your seat.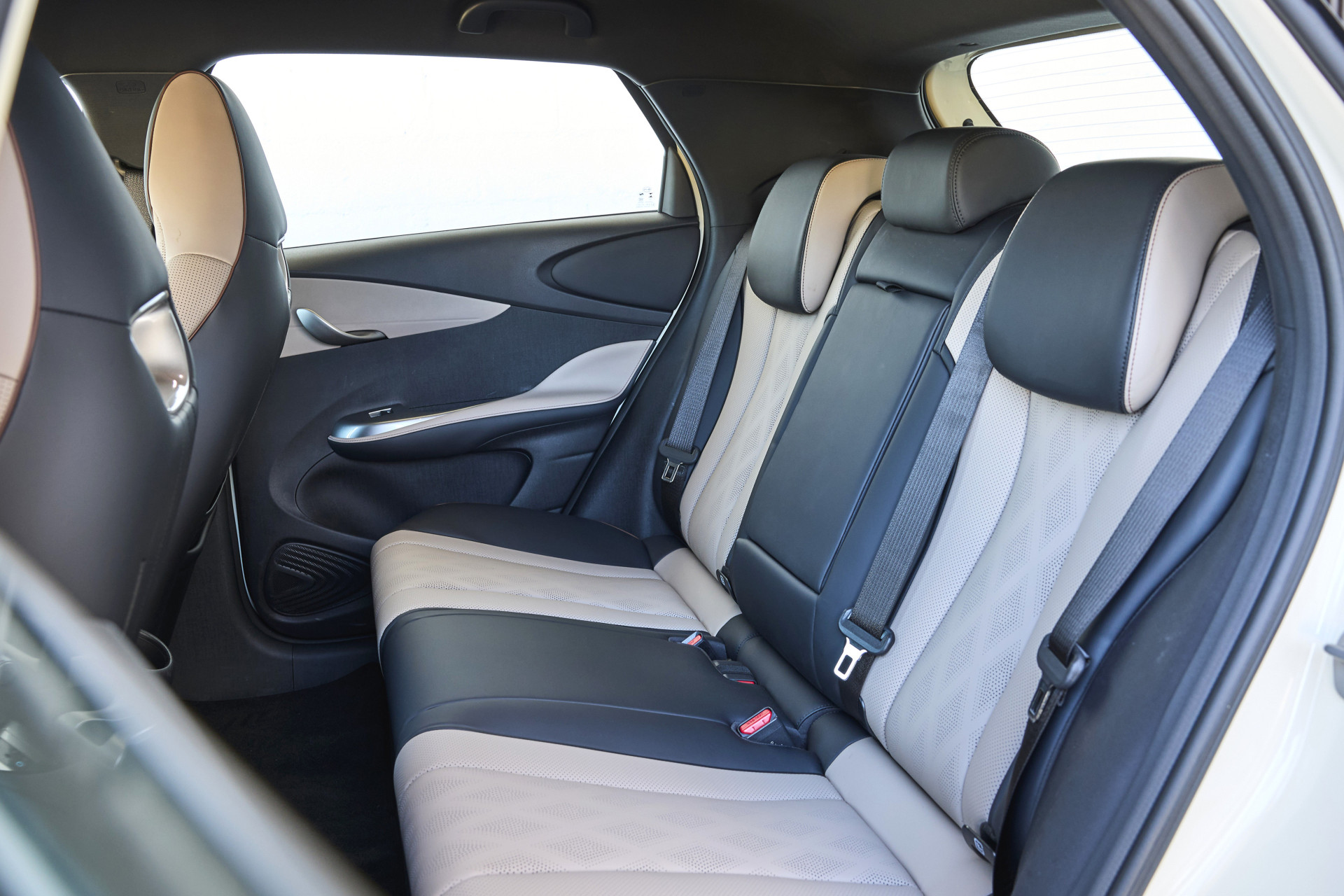 Great rear passenger space
Thanks to the e-platform 3.0, the short front and rear overhangs and the long wheelbase give the BYD Dolphin a more spacious appearance, and the rear passenger compartment has a flat floor, giving middle-seat passengers lots of comfort and space.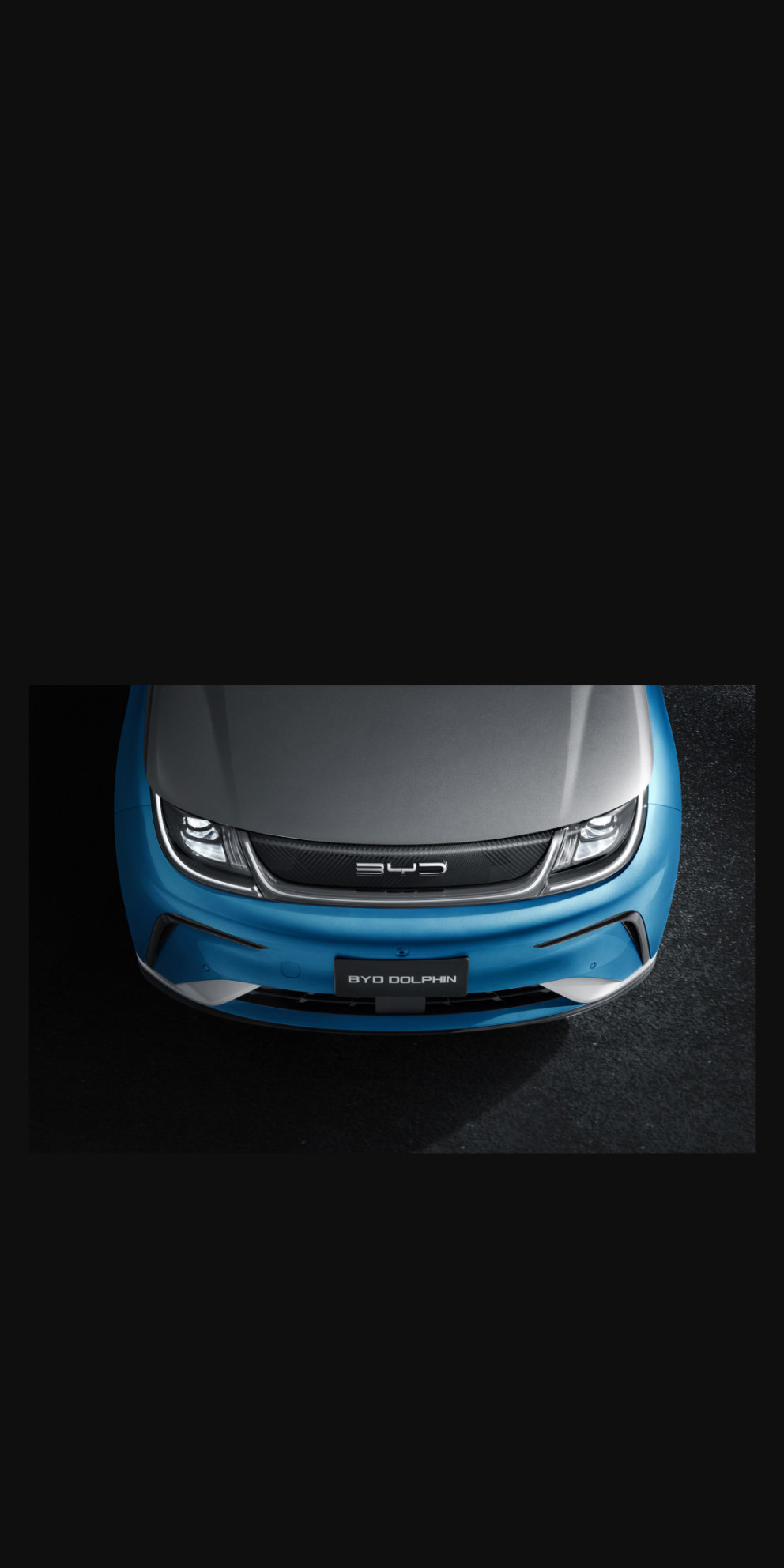 The lights
The design of the front and rear lights is inspired by dolphins jumping out of the ocean.
The continuous LED headlight running across the front of the BYD DOLPHIN and the dynamic tail light design look super.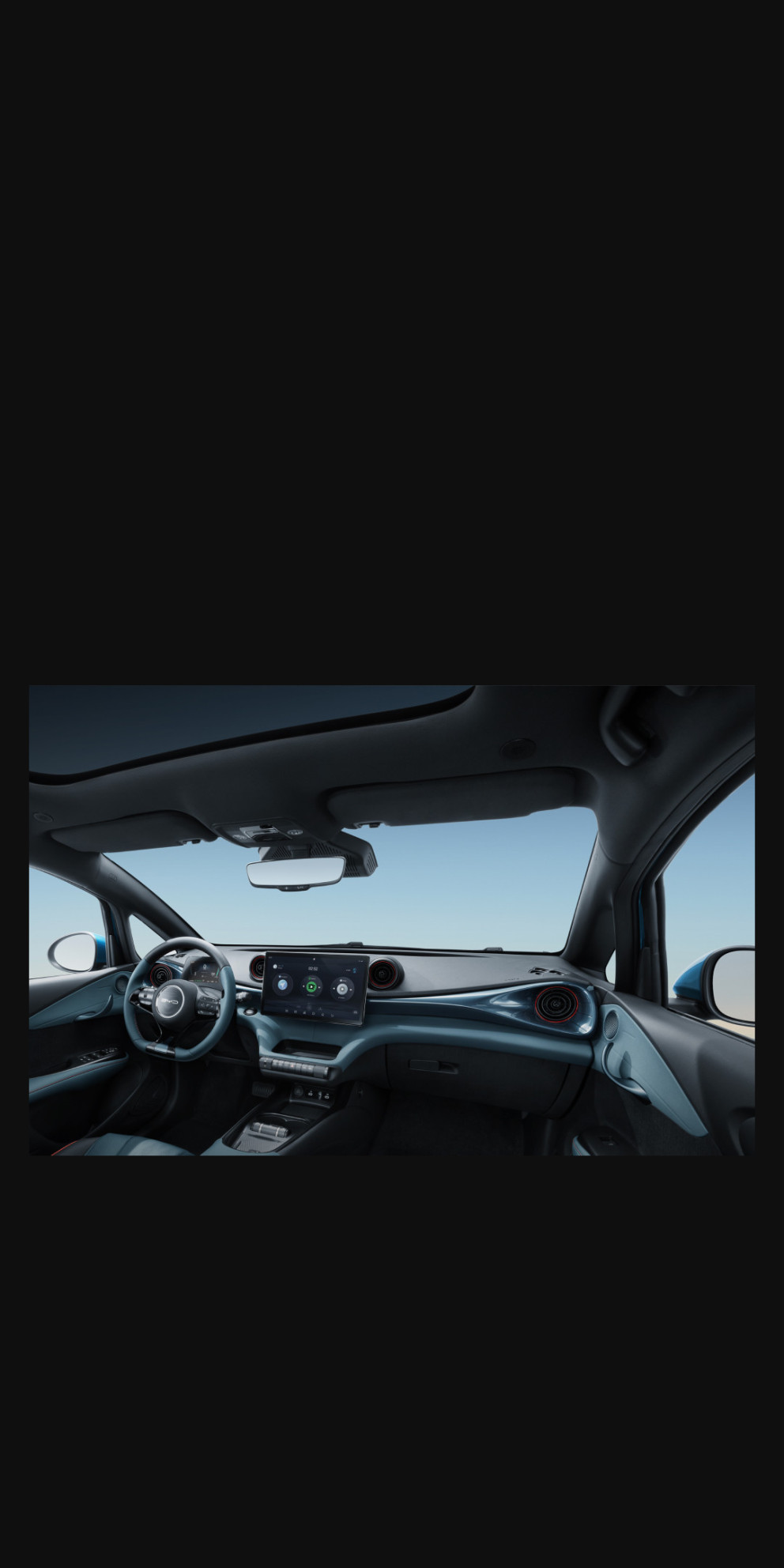 The centre console
The suspended centre console creates a dynamic driving environment with its metal trim detail running across the entire dashboard, to form a beautiful, minimalist curve.
Got a question?
Visit our FAQ's to find answers to commonly asked questions.
BYD - The Company
Who are BYD?
BYD Company Ltd. established in 1995 in Shenzhen, China.
Listed on Hong Kong and Shenzhen Stock Exchanges
Turnover €58 billion in 2022, +55%
600,000 employees worldwide
4 main businesses: electronics, automobile, new energy and rail transit
BYD has more than 49,000 engineers and technicians. As of January 2023, BYD has submitted applications for over 40,000 patent rights and owns about 28,000 patents.
To date, BYD has delivered more than 90,000 units of pure electric buses and coaches.
BYD has ranked 1st in China's New Energy Passenger Vehicles sales for 9 consecutive years (2014 - 2022).
BYD ranks 1st in China's new energy vehicles for 10 consecutive years (2013 - 2022).
BYD is the first manufacturers globally to produce three million new energy vehicles.
By March 2023, over 3.9 million BYD NEVs have been produced for operation in 70 countries and regions, and 400+ cities around the world, reducing CO2 emissions by 29 million tonnes.
BYD Europe was established in 1998. BYD is the world's leading NEV and is coming to Europe to bring the latest technologies, products and green city solutions. BYD Vision is to Cool the Earth by 1℃. That may not sound like a lot, but it's close to the global temperature scientists say can trigger dramatic sea-level rise, more destructive storms, and heat waves.
And last but not least BYD manufactures its own eco-systems and semiconductor chips, a big advantage in our delivery capabilities.
What is the quality of the BYD car range?
BYD brings high tech, sustainable mobility solutions (and battery technology) to European customers. BYD cars are highly spec'd, have high tech DNA, modern/latest technology on board: much more than you would expect.
Will the brand stick around?
BYD is being distributed in Ireland by Motor Distributors Limited (MDL). MDL, a company recognised as one of Ireland's leading and most distinguished motor vehicles distributors. Since the 1940s, MDL has served as distributors in Ireland for many of the world's leading motor brands. Following extensive research in the global electric vehicle market, BYD is their latest chosen brand to import into Ireland.
By March 2023, over 3.9 million BYD NEVs have been produced for operation in 70 countries and regions, and 400+ cities around the world, reducing CO2 emissions by 29 million tonnes.
Initially, the BYD Atto 3 will be available through dealerships in Dublin and Cork cities - BYD North Dublin, Navan Road; BYD South Dublin, Deansgrange and BYD Cork Eastgate Business Park, Little Island.

Additional sales dealerships to be announced shortly.
What about after care?
BYD is currently sold in 3 locations in Ireland through MSL Motor Group (MSL) – BYD North Dublin, Navan Road Dublin 7, BYD South Dublin in Deansgrange, and BYD Cork at Eastgate Business Park, Little Island, with additional dealers to be announced shortly.
After-Sales care will be delivered through these outlets and all are experienced Sales and After-Sales dealers in Ireland for over fifty years. For additional peace of mind, all BYD cars with a comprehensive 6-year vehicle warranty, 8-year battery warranty, and a 12-year Anti-Corrosion warranty. BYD ATTO 3 comes with a two-year service plan offering free of charge replacement of tyres, front brake pads and wiper blades should they need to be replaced.
Fast charging will not affect our battery and can be used safely. The fast-charging model has been tested and matched to vehicle under different condition of SOC.
When your EV will not be used for a longer time period, we suggest leaving the vehicle with 30-50% SOC in the battery and remove the cathode wire of the 12V battery.
Your Privacy
Data security is fundamental to BYD. BYD takes privacy very seriously and is committed to protecting customer information in accordance with the General Data Protection Regulation (GDPR).
BYD always respects and protects personal privacy. All data related to vehicles will be stored on servers in the European Union, or directly in the vehicle. BYD will not collect personal data without authorization, and will only carry out data processing activities in compliance with the GDPR and other legal requirements. BYD has implemented corresponding encryption and protection measures for the process of data storage and transmission ensuring our best efforts to safeguard data security.
The BYD Blade Battery
Every BYD passenger car has high tech in its DNA: The new electric vehicles are built on the state-of-the-art BYD e-Platform 3.0. with lithium Iron Phosphate (Cobalt-free, for sustainable, labour and safety reasons) blade battery.
BYD ATTO 3 is based on a Cell-to-Pack (CTP) platform, which means that the battery is integrated in the traditional structure of the body floor, forming a sandwich structure of the top cover, the ''blade battery'' and the tray. The benefit of this advanced CTB-platform is that the car's body can be lower, therefore has better aerodynamics and, adds to body stiffness and also offers more space for the battery pack.
How long does it take to charge a BYD?
Commercial charging 3 phase A/C 5.4 hours D/C Charging 30% to 80% 29 minutes
How long do BYD batteries last for?
They are designed to last the lifetime of the vehicle similar to a combustion engine
What is the BYD battery made of?
Battery type: Blade Lithium Iron Phosphate HV battery
Who makes the BYD battery?
The battery is designed and produced internally by BYD
What happens to the old electric batteries?
When the HV battery comes to end of the life all parts are recycled
What is the Blade Battery technology?
The revolutionary BYD Blade Battery introduces new levels of safety, durability and performance.
What sets BYD battery technologies apart and from other manufactures?
With the uptake for EVs across the globe beginning to gather pace, the Blade Battery's ultra-safe credentials sets it apart from conventional Lithium Iron-Phosphate battery technology and, BYD believes, gives it a significant USP in the EV sector.
Safety: The Blade Battery has successfully passed the nail penetration test, one of the most stringent safety tests in the industry, which proves it will never spontaneously ignite. The Blade Battery is currently the only power battery in the world that can safely pass the test.

What are the components used in BYD batteries and do they include Cobalt?
The Blade Battery adopts the lithium iron phosphate technology and is Cobalt free. BYD has chosen this because of safety, sustainability and labour issues.
What environmental standards does BYD have concerning the use of minerals such as cobalt in the production of lithium batteries?
The Blade Battery adopts the lithium iron phosphate technology and is Cobalt free.
The Environment
Where are BYD cars built?
All models of passenger cars for Europe are built in China. BYD has several state-of-art facilities in China, with the world-class advanced production equipment.
We're conducting feasibility studies into our passenger cars production options in Europe. While there are no target European countries to build facilities in yet, obviously BYD wants to be close to Europe for business and sustainable reasons (shipping).
Why are BYD cars good for the environment and sustainability?
BYD Company's mission has been and always will be, to create products and services that make the world safe, clean, connected, and sustainable. In pursuit of this mission, our company is committed to a strong Corporate Social Responsibility Policy (CSR) that safeguards our products and services, and the ecosystem of suppliers that contribute to our products and services.
The BYD Blade Battery adopts the lithium iron phosphate technology and it's 100% recyclable. The battery will be recycled and can have a second life in energy storage.

What models are available in the Irish market now?
The first car to arrive in Ireland is the BYD ATTO 3 (C-Segment SUV)
What specs or models are coming to Ireland?
BYD has plans to introduce more models in 2023 and 2024 to meet the market and customer demands. These will be announced in due course.
What does BYD mean?
BYD stands for Build Your Dreams
The BYD ATTO 3
The BYD ATTO 3 offers numerous benefits. Firstly, it comes with a vast list of standard equipment including the all-important safety features (plus an NCAP 5-star rating). The technology and efficiency makes running an electric vehicle very simple. It has been designed under the leadership of our German Design Director Wolfgang Egger so will appeal to European tastes. The car combines pinnacle technology, infotainment, design, and comfort.
Performance: WLTP combined range of 420 km. The 60.5 kWh Blade Battery can be charged from 30-80% in 29 minutes. 0-100 km sprint time of just 7.3 seconds.
We believe that our products are successfully pitched for many types of customers. The BYD ATTO 3 is perfect for people who want to transition to an electric vehicle, yet the technology and efficiency will also appeal to the EV advocates who truly understand the technology. The BYD ATTO 3 is placed in the heartland of the volume sector meaning that it appeals to couples, young families, and older generations alike.
Are BYD cars Apple Carplay or Android Auto equipped?
In Ireland, Apple Carplay is available but Android Auto will be ready from April.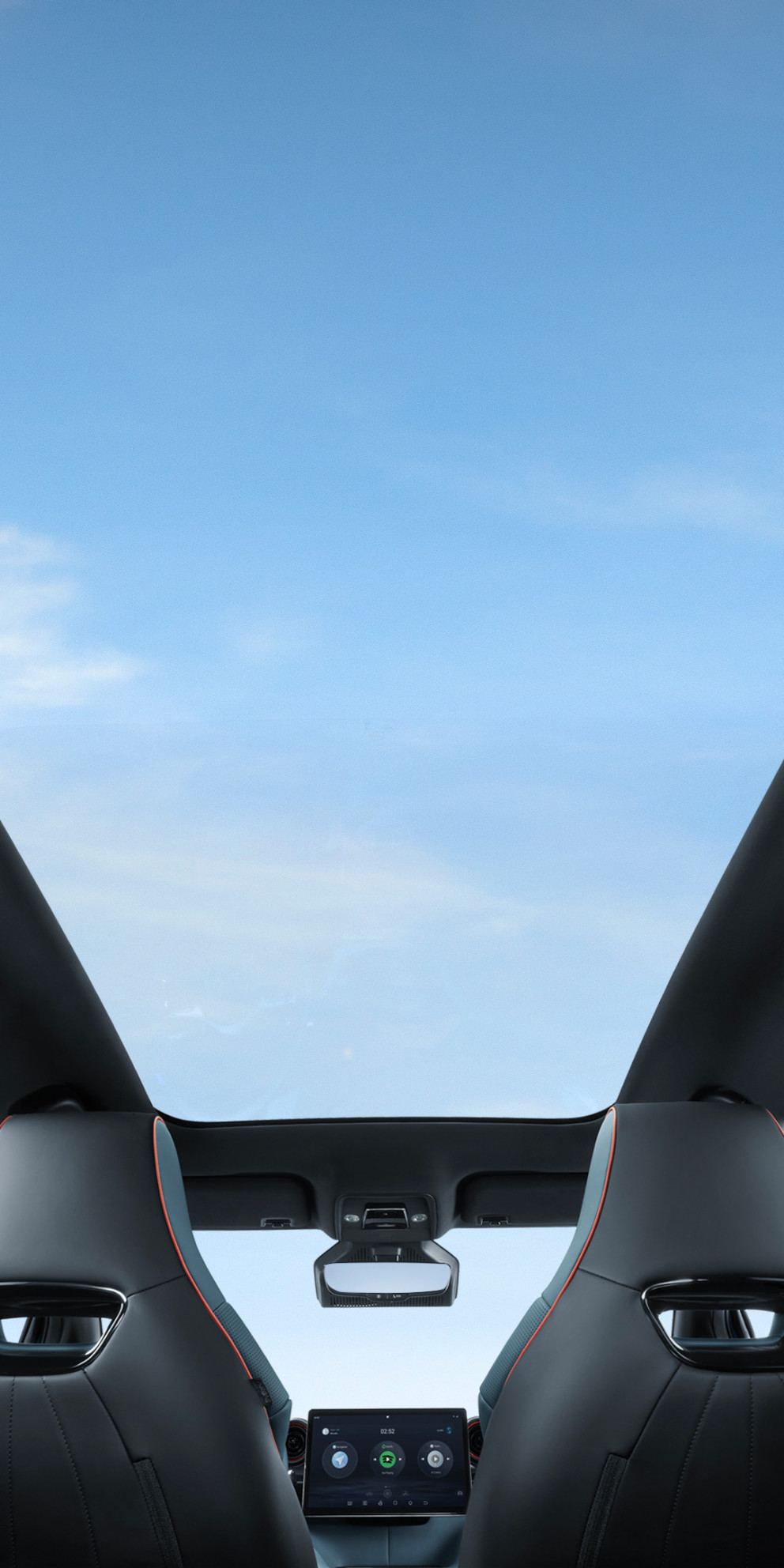 Panoramic sunroof
The full-sized panoramic glass roof spans the entire cabin, delivering unparalleled, ultra-wide-angle visibility and ensures light floods into the spacious interior.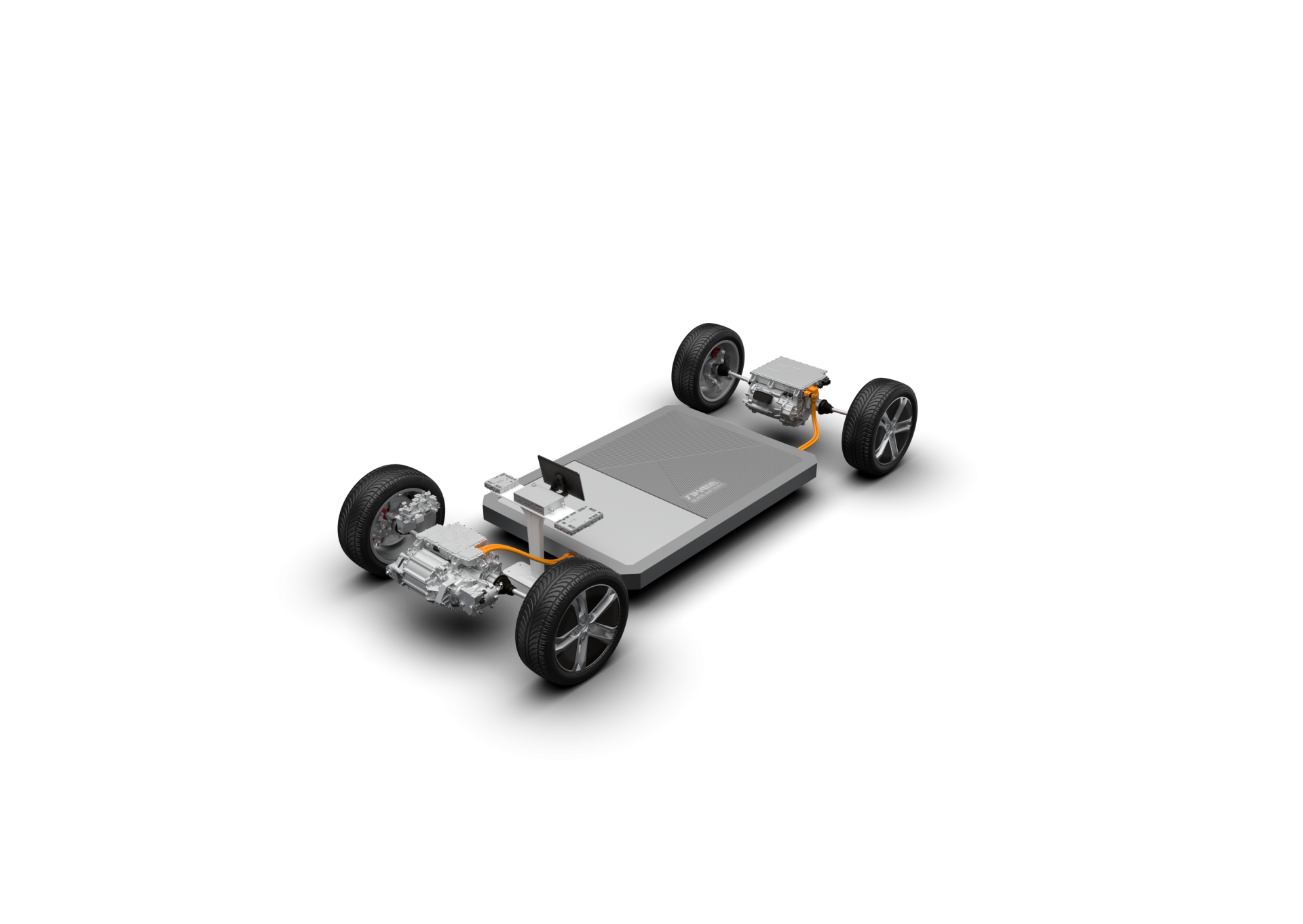 e-Platform 3.0
BYD DOLPHIN is built on the all-new BYD e-Platform 3.0 designed specifically for pure electric vehicles. Giving all the advantages of intelligence, efficiency, safety and aesthetics, e-Platform 3.0 aims to promote NEVs' performance in safety and low-temperature driving range and to build more efficient and safer new intelligent EVs.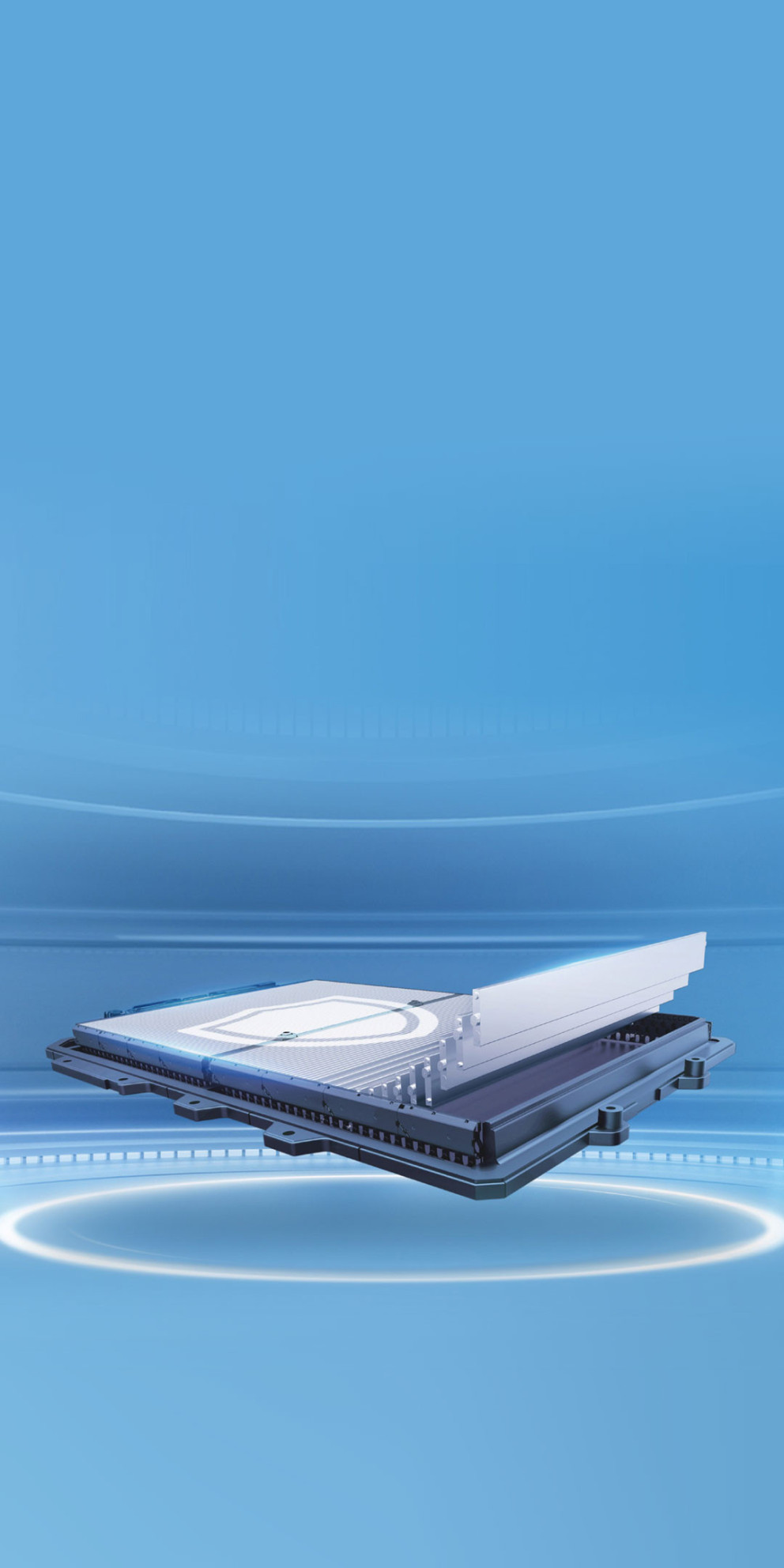 BYD Blade Battery
The BYD DOLPHIN also benefits from the game-changing Blade Battery, which has been revolutionising safety, durability and performance in the EV industry for more than 28 years. And all this without using scarce raw materials such as nickel and cobalt. The BYD DOLPHIN is available with an efficient 60 kWh Lithium Iron Phosphate (LFP).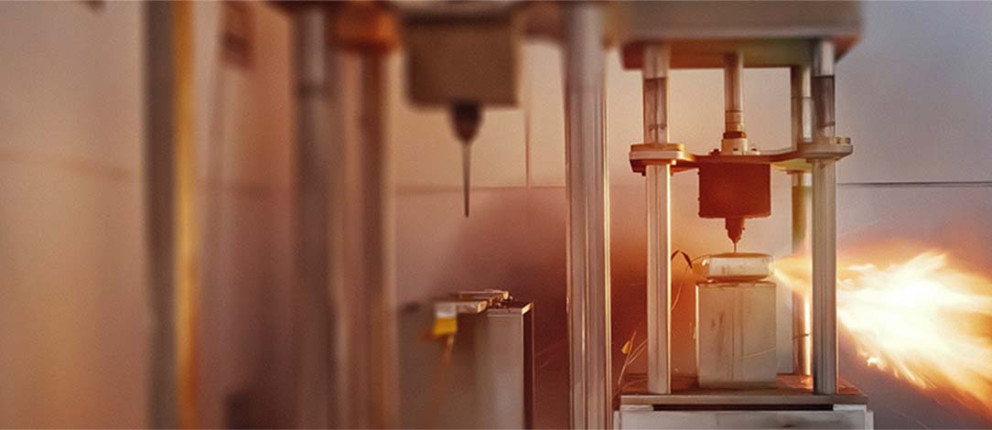 Extreme testing
Blade Battery has passed a series of extreme tests in rigorous conditions, making it one of the world's safest batteries.

Fast charging
You get 11kW AC charging as standard, as well as 100kW DC fast charging. So, you can top up the battery from 30%-80% in just 29 minutes at a rapid charger.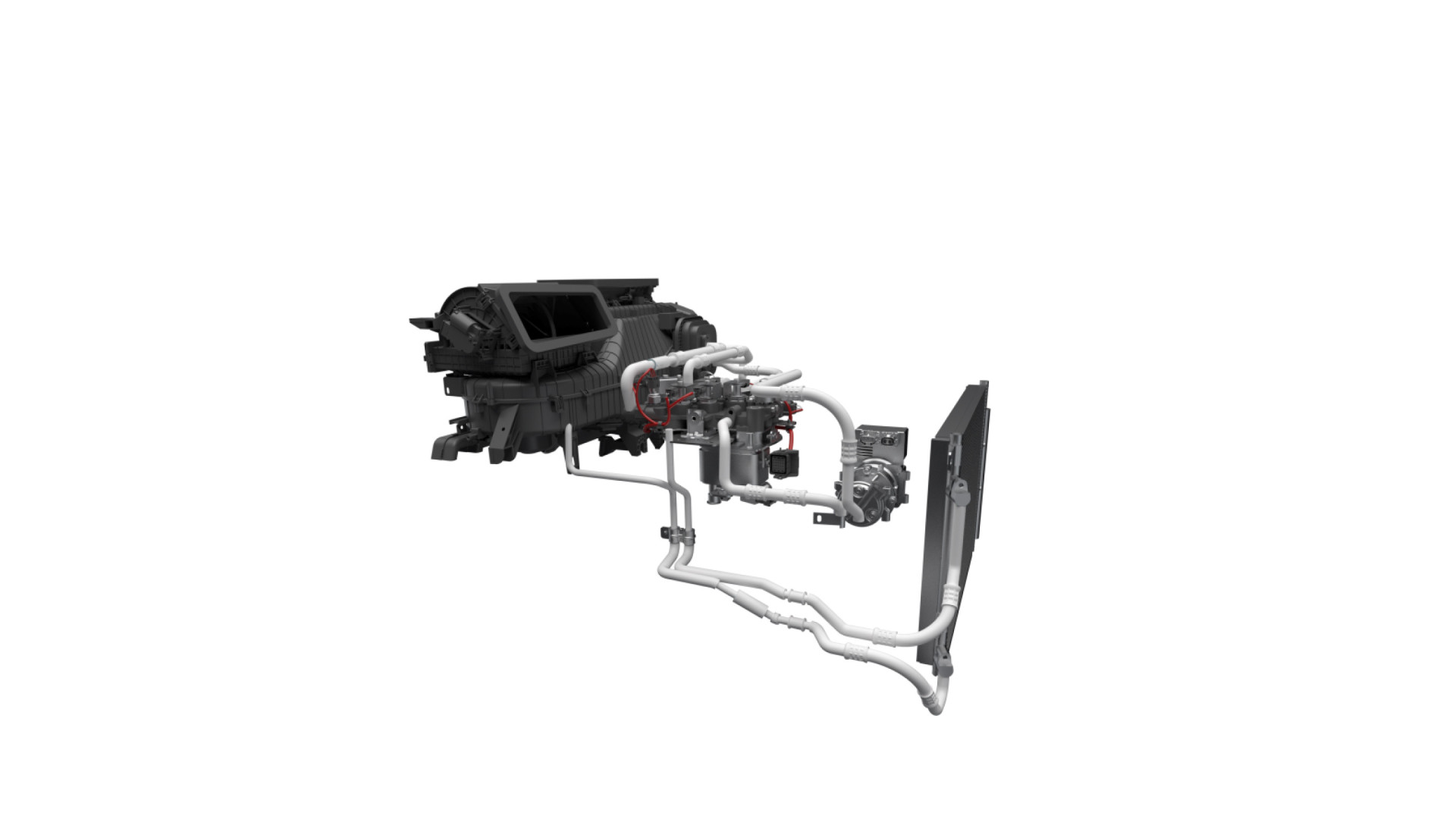 High efficiency heat pump system
An advanced energy-saving heat pump system comes as standard. Reliably operating in a broad range of temperatures, the system efficiently utilises residual heat from the powertrain, the passenger compartment and even the batteries. It enhances the thermal efficiency and reduces energy loss whether heating or cooling. As a result, the low-temperature driving range is increased.
*Note: CO2 emissions combined: 0g/km.
The actual energy consumption in real conditions varies depending on the driving style, the nature of the route, the outside temperature, the use of heating and air conditioning and any additional weight. The energy consumption was determined on the basis of EU 2017/1151 and (EU) 2018/858.